Career
The main objectives of the company's HR policy are to create a safe and motivating working environment that is attractive and inviting to employees and to create conditions for the development of employee initiative and creativity.
WE BELIEVE that our employees are one of the key assets that determine the success of the company
WE VALUE openness, responsibility, efficiency and cooperation
WE OFFER an interesting job in a dynamic business area, a good work environment
WE PROVIDE development and career opportunities
WE ENSURE social security
Today, the ARIJUS Group has more than 374 employees.
Together, we are pro-active, friendly people who are always ready for new jobs and challenges.
We are convinced that a company's value on the market is created by the people who work for it, and that is why we strive to bring together the very best people to lead the way.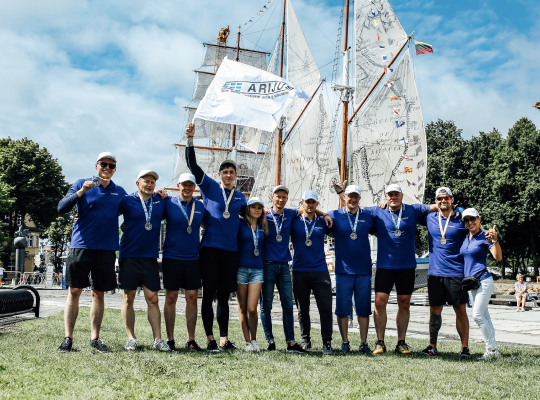 THIS IS ARIJUS
374
PROFESSIONAL
EMPLOYEES
41
YEARLY AVERAGE
AGE OF EMPLOYEES
14
COLLEAGUES OF DIFFERENT
NATIONALITIES
31
YEARS ON THE WORLD
MARKET
5
COUNTRIES COMPANIES
REPRESENTATIONS
We sincerely believe that this is who YOU are. Join the ARIJUS UAB team.
Job offers
Posted before&nbsp46&nbspdays
Drivers forwarders
Apply
---
Tasks
Safe transport of goods in containers, semi-trailers or tanks (ADR)
Requirements
Driving licence (CE category)
EU-95 code qualification
Digital driver card
Experience as a truck driver
Ability to communicate in English
Certificate for the transport of dangerous goods (ADR) would be an advantage
We offer
Work on EURO 6 compliant trucks
Transparent system of remuneration and bonuses for good performance
Regular theoretical and practical training, organisation and payment of courses for ADR certification
Monthly gross salary: We offer a salary of between 2,500 EUR and 3,500 EUR together with daily allowances, which we pay twice a month.
Confidentiality guaranteed.
Contact: +37061814595, +37046392062
When applying, you submit your personal data to the company ARIJUS UAB. This personal data will be processed for the purposes of selecting the company's employees and on the basis of consent until the end of the selection process. In the case of positions for which the selection process is continuous and uninterrupted, the personal data provided by you will be kept for 1 year from the date of receipt of the data.
Didn't find the position you want?
Send us your CV and we will contact you in the future when a suitable vacancy becomes available.
FEEDBACK
The company cares about and respects its employees. Mutual respect is very important to me. There are opportunities to learn, develop and change work positions.
Jūratė Valiulė
Senior Manager, Shipping Lines Department
In the Arijus group of companies since 2004
In a rather short time I managed to become a part of a large and friendly family. A great team and a comfortable working environment make me smile every day.
Auksė Puidokaitė
Head of Container Shipping and Freight Forwarding Department
In the Arijus group of companies since 2021
Because the atmosphere here is warm and friendly. The needs of employees are taken into account and they are offered the perfect conditions to develop, achieve their goals and bring out the best in themselves.
Rita Augustinienė
Manager of the Transport Services Division of the Own Motor Transport Department
In the Arijus group of companies since 2017
I've grown, learned, changed and developed along with the company, and that's why I like it here.
Ramunė Vaičienė
Head of Operations of the Forwarding Department
In the Arijus group of companies since 2002